For centuries, land trusts have been a standard way of protecting one's privacy and transferring real property. But today this type of ownership structure is more needed than ever because it offers one of the most valuable assets of all — anonymity.
Owning real estate in a land trust is a time-tested way of protecting your privacy when it comes to your home, your business and your family. But privacy is not as easy for real estate investors because our personal names and company names are on file and on the web.
PRIVACY IS A SCARCE RESOURCE
Social media and search engines, investors and business owners are finding their privacy under siege. Their homes and assets are targeted by tenacious attorneys and unruly tenants, and in the worst cases, they and their families have been personally targeted. It's scary, but investors have a resource to combat the: Land Trusts.
LUDICROUS LAWSUITS ARE A REAL THREAT
Learn how to protect your assets and how to become more private with your personal life. Don't fool yourself by thinking you don't need privacy in your real estate dealings. In this lawsuit-happy world: Your business should be nobody's business.
While a primary weapon of the real estate investor and the small business owner, the land trust, contrary to popular belief, is simply and nothing more than a title holding vehicle with some interesting attributes.
When a creditor or potential litigant looks up your name, he should see that you have virtually no assets, and therefore are not worth pursuing. As Mike Anderson puts it, "You want to look like you qualify for food stamps."
 NEVER DISCLOSE MORE INFORMATION THAN LEGALLY REQUIRED. In your Trust paperwork never include the Trustee's name on the deed where possible. In 2023 most counties do not require it. But call your County recorder's office where the deed is recorded and ask if it is required that the trustee's name to be listed on the deed. (260) 449-7165
But Land trusts do not work for every type of property or situation. And not all land trust products are the same; only a handful are organized correctly. And creating one, even though complex, can be done quite easily. And once created you have to know how to:
» use it
» maintain it and
» defend it.
While that may sound like a lot of works it is not. No more than knowing your lease agreement, enforcing it and, if needed, going to court to defend it. Even though there are many types of grantor trusts, including living trusts and personal property trusts, they all generally have the same purpose and required knowledge.
As REIA president Scott FladHammer tells it, "I have found the best way to maintain privacy in my transactions and holdings is using a land trust. Besides privacy and keeping the sales price secret, land trusts are handy for other things like avoiding seasoning problems, keeping liens and judgments off the property, saving on title insurance, and avoiding litigation.
And even in non-traditional deals and financing you can benefit using a trust. For example, when I lend money to other investors to buy, fix up and flip, I as the transactional lender have excellent ease of control with a trust. And the borrowing investor can flip the property inside the trust which doesn't affect the chain of title so there is no seasoning problems and we save money since we don't have to get another title insurance policy. There have also been times where I have sold the beneficial interest of the trust, rather than conveying by deed. This way no one knows the property has been sold.
I spoke with Randy in-depth and found he can explain how and why land trusts work really well."
From a practical standpoint think of the land trust like a box with its sole purpose to hold real estate. The box comes with a set of instructions for the trustee and the beneficiary. These instructions detail who has the power to lease, sell, or encumber the property. The instructions can also specify how distributions of income will be managed. In short, the land trust's appeal is in its simplicity and functionality.
Some of the common investor questions Larry covers are in this training:
» Can my corporation be the trustee of my land trust?
» What happens if your nominee trustee will not resign, or, even worse, he sells your property?
» What happens in the event your trustee turns out to be a rogue and sells the trust property without your consent?
HERE'S WHAT YOU'LL LEARN IN
Land Trusts Explained
featuring Randy Hughes
Real life examples to save money on title insurance + keep liens away
Detailed Steps to Decide How and When to Set up a Land Trust
6 Ways smart investors use land trusts
The 2023 real estate land trust paperwork
Avoiding seasoning problems and much more…
LENGTH:
68 Minutes
LEVEL:
Intermediate to Advanced
FEATURING:
Randy Hughes
REQUIREMENTS:
Desire for privacy and asset protection
Enthusiasm for learning somewhat complex topic
Don't skip ahead (all details of a Land Trust are important!)
Fundamental real estate knowledge

---
MEET THE EXPERT
Randy Hughes has written extensively on privacy and asset protection as well as teaching real estate classes at the University of Illinois, Parkland College and Elgin Community College. In addition to being faculty member for Lorman Education Services in Eau Claire, Wisconsin, Randy is also a Broker and a licensed Continuing Education Instructor for the Illinois Association of Realtors for 20 years. He also teaches land trust law and administration, authors the only Land Trust Newsletter and Blog in the country, is the founder of the Land Trust University.
Randy Hughes, also known as Mr. Land Trust, started life out on the wrong side of the railroad tracks. His father was an alcoholic and his mother was left to raise four children on a clerk's wages. None of his relatives owned their own business… everyone worked for wages.
His father charged the weekly groceries so that the family would have food on the table. There was no stable income for any future education much less the current needs of the family.
No intellectual or financial direction was taught in his schools or church. No blood relative had anything to offer other than "working for the man" at an hourly wage. Bank savings and financial security was what only the rich had. He was doomed for financial failure and unhappiness for the rest of his life.
Randy knew that there must be a better way to live. He decided to break the cycle of poverty in his family genes. Education came first. Randy graduated from Eastern Illinois University and began buying single family homes for rental while in college. After college, the Randy tried many different types of businesses, but always came back to the Single Family Home as the IDEAL investment. Since purchasing his first rental house in 1969, Randy hasn't looked back.
Today, Randy has purchased over 200 houses. He has lived the life of having nothing and will not let that happen again. Randy's primary goal now is to teach others how to break the cycle of poverty. Randy teaches real estate investment courses throughout the United States and in his free webinar. He has written Privacy and Asset Protection books as well as home study courses. Randy's most popular publications are his Land Trust Made Simple home study courses and live seminars.
Get this course…
AT A DISCOUNT!

Like saving money? Thought so. As a Lifetime REIA member you get 20% right off the top of this expert's REIA approved offerings, courses and resources!

GET WHAT YOU NEED NOW
Invest in yourself by ordering now so you're armed with everything you need to make money and have fun in real estate.


YES! I want the course, Randy Hughes's coaching, bonuses and the special 2023 REIA discount price. Please contact me as soon as possible!

Log in now to learn how to use land trusts to protect your privacy and your property:
GIVE YOURSELF AN
EDGE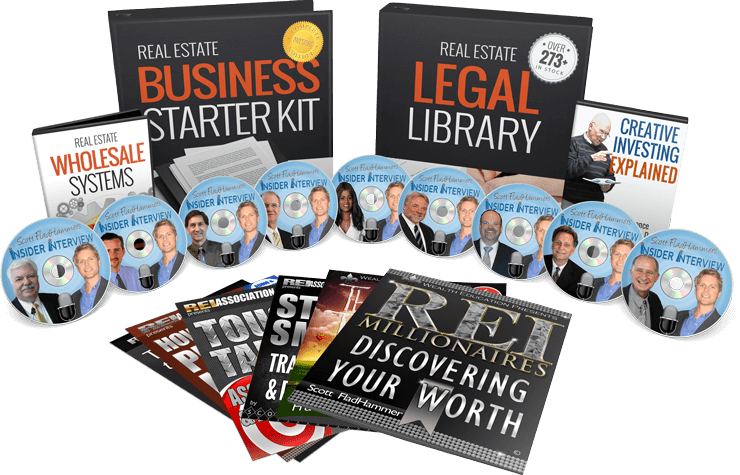 Get access to 50+ courses in the training academy when you invest in a REIA membership. Judge for yourself if the (ridiculously) low membership fee is worth everything
you see here