Most have heard that the first word in real estate, real, is all about relationships. That's because relationships are a key to successful real estate investing, even more so than other important areas like education, capital or having a market niche picked out. With the ability reach out to someone who knowledgeable in the specific topic you need advice on is critical for long-term profitability – even if you're a seasoned investor, but especially if you're a newbie.
That's why REIA is proud to present, for the first time ever, REIA president and investing veteran Scott FladHammer's entire database of go-to contacts for every key and supporting position in real estate that he uses to run a very profitable investing business; efficiently and almost on auto-pilot.
As Scott explains it, "Investing means a lot of different things to different people. Some believe fixing up a house to resell or rent is investing. So, they go about the manual labor of fixing the place up. Others think that dealing with tenants and applications is the key to wealth. Still other go-getters decide that by getting a license from the state and access to a multiple listings service (MLS) will give them an edge in finding deals and save them money when they list deals retail.
If I can describe those personal decisions well its only because I held those same beliefs and went down the path of each of those examples hoping it would lead me ultimately to becoming a real estate investor. Instead, those paths led me to become a handyman, a property manager and a real estate agent.
BECOMING SUPERMAN
I used to think I would do all the work, find and list my deals, do the evictions, estimating repairs of my wholesales, … all of it. I now call that way of thinking the Superman Theory. None of us are going to live long enough to get good at all these diverse areas of real estate and supporting positions needed to make money in real estate. We may not even like doing some of the areas so it becomes no better than having a job and a crazy man who thinks he's superman for a boss.
So, after much wasted time and humility, I realized it would be better to find the person in each niche who is already good at it and has a passion for it so I can focus solely on that one area I started off wanting to do, have a passion for and where I'm getting pretty good at: investing."
HERE'S WHAT YOU GET
Now, in one organized master file that's 49 pages and contains an index with the key 57 areas of real estate conveniently hyperlinked to that area's contacts for quickly finding the person or service you need with one click. This real estate rolodex is chock full of those people who 'get it' – who know what an investor needs from his real estate and mortgage broker, insurance agent and title company, real estate specific attorneys, contractors, vendors and suppliers, who offer quantity pricing … every key and supporting position needed to efficiently run a profitable investing business.
Together with REIA Scott will be sharing more along the lines of how he finds, screens and trains his team, how he pays, fires, rewards, blacklists and his proven documents for working profitably and headache-free with his team. This allows Scott to keep the most important the most important thing.
As Scott explains, "I've long referred to this as my Million Dollar Rolodex because it is only with these contacts that I was able to do over a million dollars in real estate. But what can't be underestimated is the precious relationships from curating my database, by pulling the weeds and nurturing the growth of the good seeds, my investing was able to be put almost on autopilot, literally hassle-free and headache-free, because of my trusted Home Support Team™. Without them I'd be struggling to this day. Investing time into my rolodex has helped me keep the most important the most important thing' and that's being the captain, quarterbacking my team and business, being the investor."
"Your database is one of the most under-estimated, under-used, and least taught forms of capital an investor can cultivate. My REI Dream Team Directory is a great way start your new business or build your existing one better. I wish I had something like this handed to me on a silver platter when I first started. I would have been way further, way sooner with much less headaches, heartaches and wasted money."
REIA's courses will help you with your know-how this investor rolodex will help you with your know-who.
CONSIDER YOURSELF HOOKED UP:

GIVE YOURSELF AN
EDGE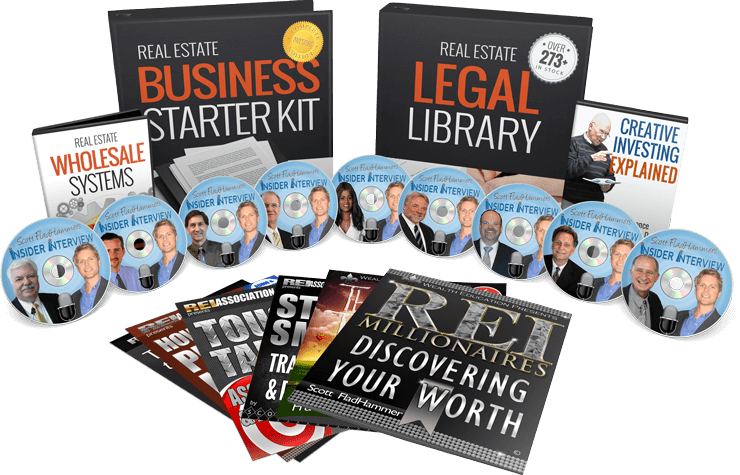 Get access to 50+ courses in the training academy when you invest in a REIA membership. Judge for yourself if the (ridiculously) low membership fee is worth everything
you see here