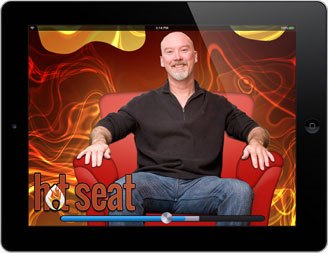 What's Tony Johnson's opinion of managing some contractors: 'It's like herding cats towards a bathtub.'
However, when you possess effective communication skills, you can build a team of trustworthy, reliable contractors for efficient rehabs and house flipping, and fast rental property repairs for a systematic and peaceful process.

And when you can properly screen and negotiate with contractors its also a profitable and rewarding experience. A one-time contractor himself, Tony has now blazed a path of profits from rehabbing and flipping houses instead of swinging a hammer.
In this Hot Seat Sessions you can hear the typical responses by the contractor on the phone during screening and on-site so you're prepared with the right things to say and ask.
Then get the real-life strategies for planning the actual contract negotiations and to ensure that you get the best deal and quality of work for your money as Fort Wayne REIA™ alumni Jay Redding and REIA president Scott FladHammer sit in to provide insights and hilarious examples from their years of dealing with contractors.
THIS SESSION SHOWS YOU HOW TO:

Top Reasons and Ways to Ask for a Discount
Define Any Time Constraints and Benchmarks
The Best Negotiating Tactics with Contractors
Items other than price that you can negotiate
Find Quality Contractors at a Reasonable Price
Questions To Ask and Red Flags To Watch Out For
Dialogue you can use for peaceful, profitable rehab and repairs
Detailed Steps to handle problem contractors and reward good ones
Here's what you get…
INCLUDES:

Audio MP3 Download
HD Video
LENGTH:
67 Minutes
LEVEL:
Beginner to Advanced
IN THE HOT SEAT:
Scott FladHammer
Tony Johnson
Jay Redding
Log in to find, interview and negotiate with contractors

See how to find, interview and negotiate with contractors:

NEVER INVEST ALONE
Build your investing team with Scott FladHammer's personal rolodex of real estate suppliers, people and products needed to start, build and run a profitable investing business. Get the Business in a Box database
Dream Team Directory