Skillful Fort Wayne Investor Shapes Numbers into Winner For Huge Back-End Payday using Lease Option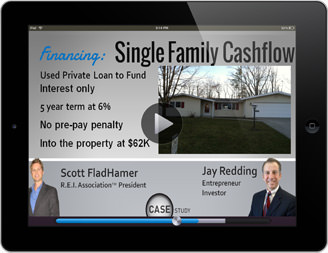 THE MOST OPTIONS WINS
So many investors walk right past great opportunities every day. We need to remember: we do not find great deals… we make them.
Crafting great deals involves some intelligent thinking and knowledge of various financing options available to all us, also known as creative real estate investing.

TURNING DOGS INTO DEALS
In this Case Study we take a very detailed look at a real estate rehab and seller financing transaction. Under the microscope is long-time Fort Wayne REIA™ member Jay Redding, a skillful real estate investor who shows his techniques for creative number crunching and seller-financing.
As we walk through this deal step-by-step you'll learn how to turn a seemingly 'no go' into a great deal with 56% ROI by creatively re-running the numbers.

CASE STUDY DETAILS:

Lease purchase profit system explained
What are the best viable options for profits
Multiple options for profits to sell houses fast
How to use private lenders to fund your deals
Broker & Credit Counselor system to ensure back-end
What to look for when lease optioning: Screening and Inspections
INCLUDES:
Slide Guide Download
Audio MP3 Download
Video Download
Full Lifetime Access
LENGTH:
40 Minutes
LEVEL:
Intermediate to advanced
FEATURING:
Scott FladHammer
Jay Redding
REQUIREMENTS:
Strong desire of getting rich and early retirement
Passion and enthusiasm for learning
Don't skip ahead (all details of Lease Option are important!)
Some fundamental or technical knowledge is required
Everyone can learn to turn dogs into deals
Pay Attention or Pay Dearly
Learn to Turn Dogs into Deals
RELATED: To see the creative ways to structure deals watch Jay's Advanced Creative Real Estate Deal Structures here

Have an idea for a business or real estate case study? If we use it we'll send you a gift card. Send your idea


Membership Has Its Advantages
Connect with a caring, local community, get area-specific training courses and meet the top real estate talent in Fort Wayne... all in one place. See even more advantages »