There are many of ways to acquire real estate. But using cash and loans are most commonly used by the newbie investor. The savvy, experience investor will often opt for a more advantageous approach.
Enter: Real Estate Exchanges, a strategy rarely talked about, but proven wealth creation technique, used by an estimated one percent of creative real estate investors.
Here is a method for recapturing a ton of profit left on the table during every transaction with real estate exchanges. The misunderstood concept of structuring real estate exchanges is that the 'value' of the property has to be a 'Like-Kind Exchange' for the property you are getting.
AN UNCOMMON EDUCATION IN REAL ESTATE EXCHANGES
Too often real estate investors become aware of the possibility of tax-free exchange after they have received the sale proceeds. However, you are not restricted to a Like-Kind Exchange, whether the real estate is a personal residence, like your home, or and investment or business property. Even Owners of real estate who have condemned property can use essentially the same like-kind deferral concepts to defer gain on condemned property.
And with proper planning you can also defer capital gains tax by exchanging real estate under certain guidelines outlined in the IRS section 1031
ONLY 1% OF INVESTORS DO EXCHANGES
During a REIA meeting in Florida Scott FladHammer met a person in the one percent, a self-made millionaire real estate investor who uses exchanges to this day for creative, tax-free real estate investments. In what became a long, fruitful relationship, the investor (who asked to "keep his name otta everything") gave Scott his 'Taker Board', a simple template that the investor began with and now swears by for help with getting the creative juices flowing to create deals using real estate exchanges.
If you have knowledge of a rarely talked about, but proven wealth creation technique for "Social Exchanges" you're sitting on an untapped GOLD MINE. With fresh eyes (and this training) you can see the many opportunities around you and the age old barter and exchange can lead to new to profit in your next real estate deal.
Open your eyes to this new world of opportunity with just three simple things required:

The background and knowledge from this lesson
The 'Taker Board' a self-made of a millionaire exchanger
Have a genuine desire to help others
EXCHANGE CREATES WEALTH
Those 3 things could dramatically increase your wealth. And you will never struggle with the question, "How can I buy real estate if I don't have any money or credit?"
Get what you want out of real estate, without using cash or credit, and delay, indefinitely the requirement of paying taxes, by structuring creative real estate exchanges. We'll show you how one man is doing it. So let's get started!
INCLUDES:
Taker Board PDF
Audio MP3 Download
HD Video
LEVEL:
Beginner to advanced
LENGTH:
22 Minutes
FEATURING:
Scott FladHammer
REQUIREMENTS:
Attention to details
Basic Real Estate Understanding
Ability to Have an Open Mind About New Subjects
Login to Structure Creative Real Estate Exchanges:
---
MEET THE EXPERT
Scott FladHammer is an investment property expert and advisor who has done national and international Real Estate Exchanges (some of property he did not even own, called 'swaps').
Since publishing his bestselling book on flipping Haunted Houses, he has been known as the guy who can flip anything.
He has appeared on hundreds of radio and television broadcasts and volunteers at the local and national Real Estate Investors Association™. Learn how Scott makes money in real estate investing by thinking quickly and creatively with the REIA membership.
In future REIA courses and meetings we'll do some horse trading and cover the rarely talked about, but proven wealth creation techniques Scott discusses here and his other 'exchanges' and outer-edges transactions (and yes, they are all legal).
We'll also cover some little-used ways to obtain properties without using your cash or loans and who we recommend to use for a qualified intermediary.
Get the story on structuring exchange deals and the paperwork when you log in here
GIVE YOURSELF AN
EDGE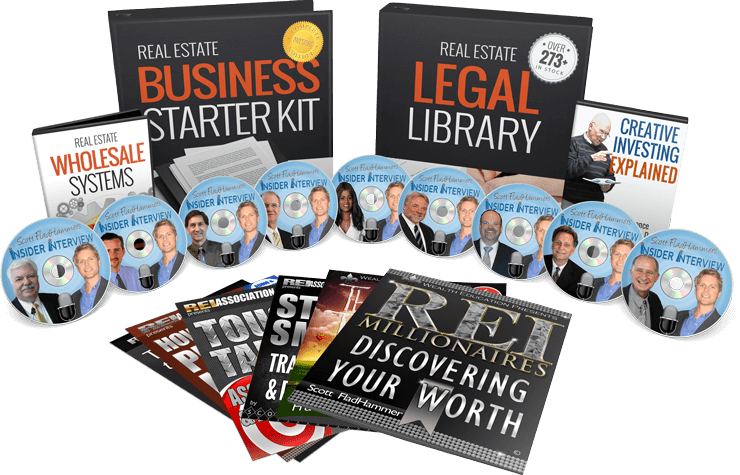 Get access to 50+ courses in the training academy when you invest in a REIA membership. Judge for yourself if the (ridiculously) low membership fee is worth everything
you see here