In the past institutional financing has been easy to get. If the borrower could fog a mirror, they could get some type of financing to pay for the properties they were buying. Thats why in 2023 knowing how to creatively structure deals is crucial.
IN 2023 THIS HAS ALL CHANGED
Our real estate investing members across the country echo a similar struggle: they are having trouble getting bank financing to fund the deal they are buying.
Knowing use seller financing to invest in real estate is what is needed to prosper in the real estate today. If you don't have these skills it is going to be extremely difficult to be successful and profitable over the next few years.
Even Hard Money Lenders have changed their lending criteria and are requiring nearly as much documentation as the institutional lenders; especially those who have small cash reserves and less than stellar credit.
This financing situation could shut out beginning investors when they need access capital the most: during the start-up of real estate investing business is most crucial.
WE HAVE CRACKED THE CODE
The secret to success in this new market is learning Creative Seller Financing. And that is exactly what we have in store for you in this special training session by two experts in the field.
Recorded live at a private event normally costing hundreds, Real Estate Investor Association™ members get access to Creative Real Estate Deal Structuring Workshop that goes in depth on the best ways to think and grow rich by working smart and using creative ideas to formulate and negotiate killer win-win deals.
See how easy it really can be to create and negotiate killer, profitable deals. Get your R.E.I. notebook and pencil, turn up your speakers, tune out the distractions, and reel in the knowledge of this training on creative seller financing.
IN THIS LIVE MAIN EVENT
How to buy real estate with no money or credit to fast track your real estate investing business using creative financing to:

Find and use new methods of buying free and clear houses
Everything needed to confidently negotiate with Sellers
Efficient, Effective Buying Strategies for 2023
How to keep crucial cash in your bank account
Create the Ultimate Fast Track Business
New Methods, Processes and Systems
Confidently Negotiate with Sellers
Maintain Privacy in Transactions
INCLUDES:
Audio MP3 Download
HD Video
LENGTH:
100 Minutes
FEATURING:
Larry Harbolt & Curtis Brooks
LEVEL:
Beginner to Advanced
MEET THE EXPERTS
Larry Harbolt, a popular national real estate speaker and teacher who's time- tested strategies and nuts and bolts teaching style has helped thousands of aspiring real estate entrepreneurs realize their financial dreams with little or no money and without the need for credit. Larry has been successfully buying and selling real estate for over 30 years and has written numerous popular articles and courses. He is so respected in the industry that NBA Super Star, Shaquille O'Neill has purchased his courses and he is one of only two real estate teachers who's works have ever been inducted into the Library of Congress. Larry Harbolt's reputation of being one of the best "kitchen-table" negotiators with the ability to make a deal out of anything has made him a sought after consultant and coach for real estate investors with challenging deals.
Curtis J. Brooks is considered one of the nation's leading Real Estate Coaches and the master of buying properties at a deep discount. Curtis and his partners built a wildly successful house buying business in Tampa, FL buying a record number of 300 houses in one year and a minimum of 100 houses every year. With over 25 years of experience in Real Estate, Curtis has invested in every creative way possible, ranging from the Court House Steps, REO's, Short Sales, Subject To's, Non Performing Notes and Mortgages, Lease Options, Estate Sales, Wraps and Land Contracts. He has taught and coached several NBA stars to analyze business opportunities and helped thousands of people to jump start their real estate buying business. With his high finance business background, Curtis is known for his ability to explain advanced buying strategies including negotiation techniques, exit strategies, and the psychology of being a successful Real Estate Investor in simple, easy to follow terms
Want to grow your portfolio? Here's the tool we use to manage income property professionally. Check it out and get our
Landlord Survival Forms Free
Hear the Insider Interview™ with Larry covering how he buys houses without banks and his step-by-step plan to become wealthy in 5 years
Want to buy property with creative seller financing?
Ask us about the Fort Wayne REIA™ member-only property list exclusively for investors – by investors. Contact us for more information here.
Log in for the Creative Real Estate Deal Structuring Workshop
GIVE YOURSELF AN
EDGE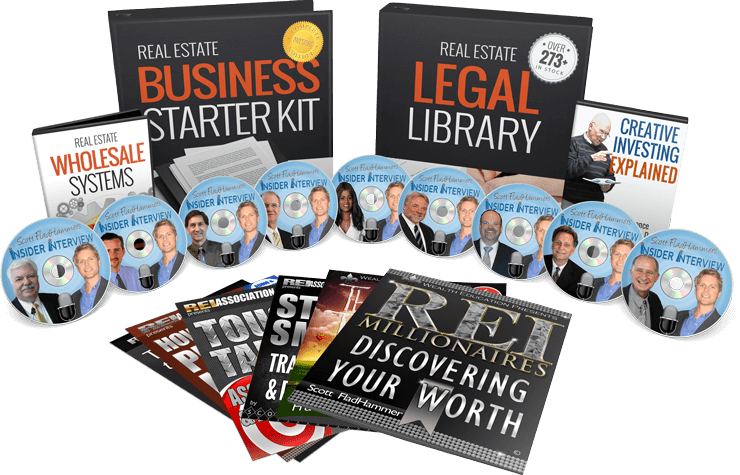 Get access to 50+ courses in the training academy when you invest in a REIA membership. Judge for yourself if the (ridiculously) low membership fee is worth everything
you see here