Because the increased competition in the mailbox direct mail has to work harder than ever to stand out – and dimensional mail can help reduce the chance of being thrown out and increase your response rates.
Most people are sorting their mail over a wastebasket – if not literally than at least in your mind. Next to the
wastebasket there are two piles" an A pile and a B pile.
The A pile is either, "Oh boy, bolt the door. I'm going to go through this right now," or "This is going in my stack for this afternoon, for tonight, for tomorrow morning while I have my coffee."
The B pile is, "Eh, I'll look at this when I have time. Maybe." If the mail is neither A or B its going in the trash. The goal for investors is to get into the A pile using great marketing.
Having something that really stands out, whether it's lumpy, or it's oversized, or it's in a tube or is delivered in a different way like through FedEx can make a big difference. Here's why…
Dimensional mail works + it increases interest
The reason is because this uniqueness, called dimensional mail, adds a bit of intrigue to the mailing which forces our curiosity to open the unique mail more often. This curiosity allows dimensional mail to overcome the toughest task in real estate marketing: getting your mail opened, getting it opened first … and it read.
And when you can tie the mailing's uniqueness to your message, and you're going to have a much higher open and response rate.
Rather than sending just another postcard, brochure or flyer, we decided to try a "lumpy mail" piece. The concept behind this type of direct mail is, instead of being flat, lumpy mail is packaged and the message comes in a box or envelope so it has length, width, and depth. That makes it stand out from everything else in the post office box and increases the likelihood that that the message will register and be remembered—particularly if it is clever or very compatible with your company's service.
Even on your sales letter you can add 'dimension' by inserting a lift note.
A lift note is simply a short note – usually a hand-written Post-It note attached to the main letter, that can that can increase response rate of a sales letter by as much as 50%.
Lift notes help you to:
• Reduce risk
• Allow a second point of view
• Strengthen credibility of offer
• Offer new benefits or a different selling point
• offer another voice backing up the key salesperson
IDEAS FOR LIFT NOTES:
1. Use a lift note to counter a key buying objection.
2. Provide a client's best testimonial.
3. Use the lift note as a place to test your "second-best" or alternate promo headlines.
4. Use lift note to give readers an extra testimonial.
5. Write the lift note as an endorsement (approved, of course) from an authority or a celebrity.
6. Make your message sound even more important by getting your company president to sign it. (Warning – that doesn't mean you should make the letter sound "corporate.")
7. Hand-write the lift note or use an extra-friendly tone to get an even more personal feel.
8. Use a lift note to emphasize a time deadline on the purchase.
9. Zoom in to focus on the best aspect of the offer (premiums, guarantees, discounts).
10. Use the lift note to emphasize long-standing credibility. (A formal letterhead might work well here.)
11. Use the lift note to keep the message newsworthy. Let it cover events that have happened since the initial mailing of a control package.
12. Use the lift note to underscore the ONE THING that really gives your product an edge over everyone else.
13. Or use the lift note to emphasize track record, unusual and impressive credentials, or to make the benefits of the most important package feature especially clear …
DIMENSIONAL MAIL EXAMPLES:
• A packet of aspirin with the claim that your offer will fix their headache.
• A padded band-aid making the point that this is the way the competition fixes the problem….but your solution is permanent.
• A compass that relays the message that we are still looking for you.
• A wooden 'Round Tuit' that tells the prospect that since he hasn't gotten around to it as of yet…now he no longer has that
excuse.
• A 'thick' shoelace enclosed with a fundraiser appeal for a non-profit organization that's operating on a shoestring
budget.
• A neon-colored squeezable smiley face ball with a message that "I've sent you this because you'll be smiling BIG after you
read my letter.
• A miniature race car that enforces to prospects that they are in easy driving distance to get to your seminar.
• A one-ounce packet of red hot cinnamon-flavored candies that provides an intriguing introduction for a letter about a red-
hot offer.
• A bank bag envelope that makes the case that since what you are talking about concerns making money, then what better way for you to deliver your message.
• A tin "treasure chest" piggy bank, complete with enclosed key that rattles when you shake it…
• A mini-mailbox, actually delivered in the mail…
• Fake "Express" mail envelopes that look like you paid more to get them to the recipient fast
• A "bottle" delivered by mail, for when you want to deliver a message in a bottle
• A pill bottle
• A silver platter
• A little plastic trash can
• A bank bag that you can use as the envelope
• A boomerang
• A fortune cookie
• A pair of socks
• A compass
• Shredded money
• A whoopee cushion
Inside the Member Academy you'll get our entire deluxe multi-media
Marketing Suite
used by our top membership as well as the courses on buying, selling, and managing property in Indiana. And when you have questions about using the content, how to get it all done, what to do first … you can ask us at the next
meetup
or contact us
here
.
COST
The Biggest objection to dimensional mail is the increased cost of the mailing. But it's all about ROI, and your greatly increased results will more than make up for the slightly increased costs. If your budget requires, test your lumpy mailing with a small run. Then you can use re-invest some of the dollars that come in to do the rest of your mailing.
I think anytime, anyone gets an envelope or box in the mail with a funky shape inside- it's guaranteed to be opened first.
Yours for bigger breakthroughs,
Scott FladHammer
ABOUT THE AUTHOR
In addition to owning several successful companies and investing in real estate Scott FladHammer writes on real estate and business for Investor Bargains™ and provides money for investors. Read more of his helpful articles and sign up for his unreleased real estate deals .
GIVE YOURSELF AN
EDGE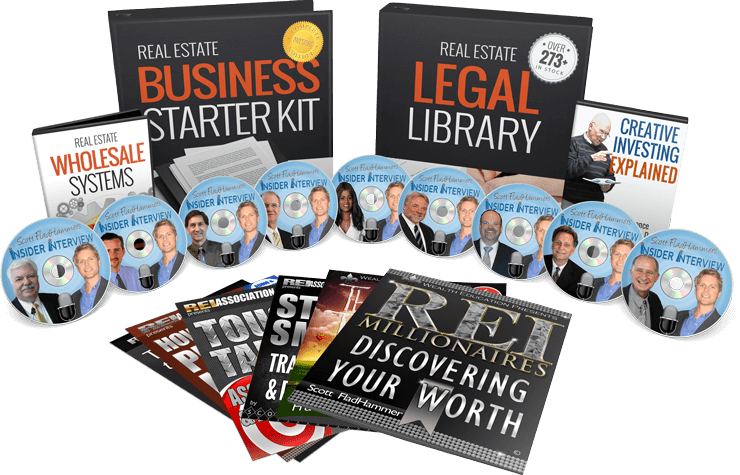 Get access to 50+ courses in the training academy when you invest in a REIA membership. Judge for yourself if the (ridiculously) low membership fee is worth everything
you see here