New Elite Training and Resources Called
the Most Complete and Affordable Real Estate Investing Membership Ever Offered!

The LIFETIME membership includes the EXCLUSIVE Investors Toolkit, a mega-pack of training and resources containing a TWO VOLUME collection of fully customizable Real Estate Investing forms and documents many of which are directly from the library of Scott FladHammer himself.
Of the most sought after real estate documents are the Warranty Deed and Quit Claim Deed because of specific formatted language, the Land Contract with investor clauses, a Promissory Note with a protection clause for multiple uses, and the real estate Land Trust combined with an Option to Purchase for the ultimate in creative real estate investing.
"To become a true transactional engineer you need certain tools and skills. By combining the investor's toolkit with the education from the meetings and the online Academy those just starting out in real estate can safely bypass all the pitfalls and get on with profitable pleasurable experiences in their real estate endeavors. We are truly providing LIFETIME members everything they need to get them up to speed.
Because REIA provides a safe environment to learn, be encouraged and exchange ideas with a local, like-minded caring community of investors, members have renewed year after year. As seen from the recent responses of 6240 real estate professionals, when we analyze how long members were active in the REIA we found it would save them substantially to offer a quantity discount. So now lifetime members never need to pay renewal dues again. Then to sweeten the pot we added in more training and resources than any other REIA in the country.
We've got a ton of positive member feedback saying the upgrade is everything they were looking for." – Scott FladHammer, real estate expert and founder, National Real Estate Investor Association™
Everything you need to get awesomer!
Learn the latest, proven techniques for getting deals
All you have to do is log into our virtual classroom and watch our step-by-step video based lessons showing you exactly what to do (pausing, rewinding and replaying these videos as much as you want).
Create powerful marketing to build a buyers list or rent and flip houses fast
Just log in, go to the marketing section and watch as we show you exactly what to do, all step by step. Even download done-for-you marketing tools.
Have questions along the way
With just a few clicks you can receive fast answers to all of your questions from our USA based Community Manager via email or phone. And tap the entire community for ideas in the Community Forum.
All of our training is available on-demand
No scheduled times you have to be online to take the training. Instead, you just log in whenever you'd like…24 hours a day, 7 days a week…select a course and begin learning. You can move at your own pace and on your own schedule.
Don't know the first thing about real estate?
Our training, community and resource will perfect for you to get started in the right direction.
We'll walk you through everything, step by step.
We'll tell you everything you need to know in plain English… without any confusing geek-speak. All you have to do is watch what we show you…and then repeat. It couldn't get any simpler. Learn from the best the fastest way possible: from experts in your area doing it right now. In a short period of time you'll:

Discover how to protect your wealth once you attain it
Hear how to maximize your income property profits
Become financially independent for life!
Explore real estate investing tax strategies
Secrets how local investors made their fortunes
Membership has its advantages
Whether you are just starting out in real estate investing, or are working on your hundredth deal, Indiana REIA can help you learn more, make more, and have more fun doing it. Bring your wholesale deals, Lease Options, Sub2, Foreclosures, Bankruptcy and other transactions to the table in our Deal Analysis and Discussion sessions
A great way to hone and sharpen your deal analysis skills, examine common mistakes and pitfalls by learning from others. Determine your exit strategy BEFORE you buy. Review real transactions in an open real estate forum where both real estate investors and brokers can bring active and potential transactions to discuss, break down, evaluate, and sell.

Bring Questions, Issues, and Strategies!
Determine Your EXIT STRATEGY Before You Buy
Review Real Transactions with White Board Analysis
Market, Assign, or Sell your Wholesale Transactions!
Examine Common Mistakes & Pitfalls by Learning From Others

Then, to protect your profits and wealth, personally and corporately, you get a company formation kit contained in the Business In A Box along with a large selection of much-needed fill-in-the-blank business forms and operating agreement.
The Fort Wayne REIA has also partnered with the best and brightest minds in business and real estate, locally and nationwide, so members can learn from the comfort of their TV, computer or smart phone as well as networking at the live REIA meetings held in Fort Wayne, Indiana. The Fort Wayne REIA™ hosts REIA meetings once a month called the LIVE Main Event™.
And now LIFETIME members get a set of indispensable real estate investing DVDs featuring the training from those industry experts. The free DVDs include topics on Tax-free IRA investing, title insurance secrets, entity selection & asset protection, getting private money & land flipping. And a new joint venture with INVESTOR BARGAINS™ allows Lifetime REIA members to find and list deals on investment property for free.
You'll be pleasantly surprised that the LIFETIME member fee is not $17,000, the value of everything that's included, but for action takers only a fraction of that cost but for a limited time, as space for the LIFETIME level is narrowing.
GET A TON MORE AND NEVER PAY ANOTHER CENT
When you get the LIFETIME MEMBERSHIP there's no need to renew- ever! And you'll get the world-class training's, tools, resources, coaching and more. You can see everything you get here.
Wait, I have some questions first…
Q: What happens next?
A: After you click the blue button at the bottom of the page you'll go to our secured check out to pay with a credit card or Paypal. After you checkout you'll get a welcome email with confirmation of your payment. After your membership approval you'll get email from our Community Manager with your login credentials for the Member Academy and an email from the REIA president for a one-on-one conversation about your plans in real estate and how REIA can best help you and your business.
Q: Do I need a Paypal account to register?
A Paypal account or a credit card will work.
Q: I need help!
For questions or problems during the checkout or anytime after you can contact us here
Q: Are there any hidden fees or recurring charges?
No. This is a one off payment and your credit card details will not be stored or used again. So why wait? You know the things you want out of life, and now you know how to get them – FAST! Step on the accelerator and make your property investing a major income producer for you by getting what's has been time-tested and proven, and now available all in one place. For success, wealth & happiness simply click the blue buttons for fast, secured check out:
GO BIG!
READY TO TAKE YOUR INVESTING TO THE NEXT LEVEL?
Military grade encryption used for secured checkout.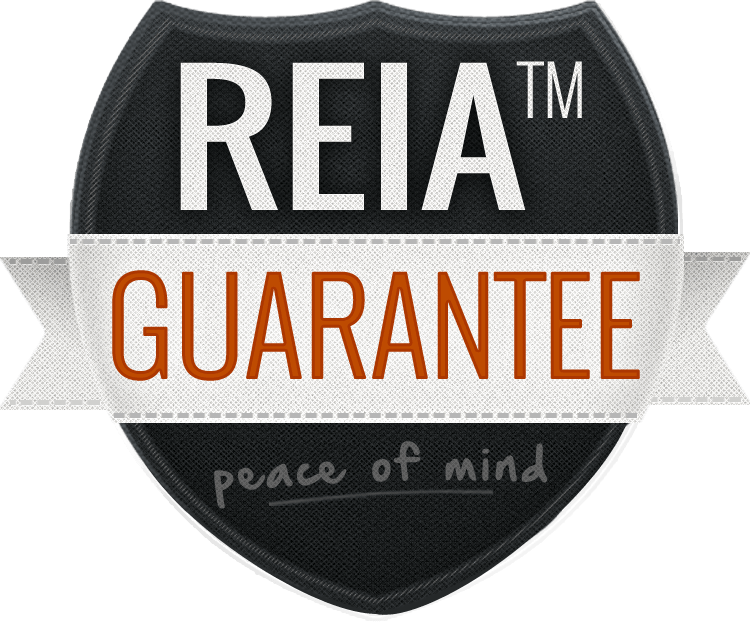 Your purchase is backed by our VALUE GUARANTEE: if you find a better REIA we'll refund your money!