Indiana Investor House Flip Earns More in 2 Months Than Most People Do In a Year
Detailed case study shows how you can too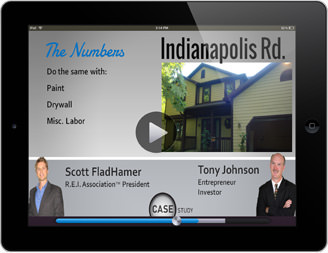 MYSTERY, DRAMA & PROFITS
A very interesting real estate rehab and flip deal featuring home builder turned investor Tony Johnson.
This case study provides great lessons for maximizing profits and overcoming the unforeseen issues when flipping houses. Hey, if it was easy we wouldn't get the Big Paydays.
I especially like how he found this killer deal and how he funded it; both of which are case studies in creativity, investing moxie and unconventional way to win a bidding war against other investors.
This one is jam packed with in-the-field real-world education: We analyze the numbers and the step-by-step rehab planning process so you can duplicate the steps to make more in one month then most do in a year.
HERE'S WHAT YOU GET IN
Strategies to a Successful Real Estate Rehab + Huge Flip Payday Deal
Featuring Scott FladHammer and Tony Johnson
How to eliminate tie-kickers and get your house sold fast
What to look out for when buying to rehab and flip houses
Mystery ghost problem provides a keep-an-eye-out-for education
Unforeseen furnace adds to cost… why? and how to prevent it
Unconventional way to create win-win in a bidding war for a great deal
COURSE INCLUDES:
Slide Guide Download
Audio MP3 Download
Video Download
COURSE LENGTH:
39 Minutes
LEVEL:
Beginner to Advanced
REQUIREMENTS:
Passion and enthusiasm for learning
Attention to details of Process are important
Strong desire of getting rich and retire early
No fundamental or technical knowledge is required
Everyone can learn to find & rehab houses for big paydays
Get the solutions to the rehab problems, minimize your headaches and get to a big flip payday when you log in here:
RELATED: For more on maximizing R.O.I. see the training Jeff Vaughan did called Detailed Steps to Determine Investment Property ROI here
Back to Case Studies

Our proven ASSOCIATION EQUATION for success in real estate TRAINING + COMMUNITY + RESOURCES is yours for unlimited access to keep forever!