Most investors have heard of interest and amortization schedules. Now check out how to mathematically flip the amortization approach on its head pay down and quickly own 2 or more income properties free and clear by the end of 2023.
It's true real estate has produced more millionaires than any other investment vehicle. But then why are there so many investors seeing their dreams of riches drown in a sea of constant searching for money and funding for real estate deals?
Scott FladHammer interviews VIP Financial president Matthew Pillmore about his unique financial training specifically tailored for real estate investors and agents. His class has been used by companies like NASA, Chicago Title, and RE/MAX to empower their employees with the very same training. He teaches every step needed to own multiple properties and have no mortgages in 10 years with no money out of pocket.
If this sounds like you check out the Insider Interview™ below because the sooner you can wrap your head around a few of these concepts the further ahead you will be -GUARANTEED.
HOW CAN I GUARANTEE IT?
Because 1+1=2. You'll know what I mean when you hear the interview about building a massive cash flow and capital machine. Don't put this off because you're probably already doing some of the right concepts some times and doing them almost right. But but almost just don't cut it anymore. Get awesomer now – not later!
WHO WILL BENEFIT MOST FROM HIS TRAINING:
» Savvier investors who want to quickly own 2 or more income properties free and clear.
» Less experienced investors with bad credit who want to understand credit score changes.
» Any investor with good credit who want to protect it while building business credit and protecting assets.
» And those who are not qualified for a mortgage, yet want to be.

TOPIC:
Build Your Cash Flow Portfolio using Business Credit
INSIDER:
Matthew Pillmore
LEVEL:
Beginner to Advanced
INCLUDES:
Audio MP3
LENGTH:
23 Minutes


Log in to Build Cash Flow using Business Credit:
---

FEATURING MATTHEW PILLMORE

Mr. Pillmore has taught these classes for many Investor Summits and real estate investment organizations and agencies including IRROC, ICOR, Pine Financial, RE/MAX Professionals, BCREI, and CAREI.
Matthew Pillmore with VIP Enterprises built a successful wholesale residential mortgage company in 2000. During that time he began investing in real estate and recognized a significant lack of information regarding credit scores available not only to consumers, but also to mortgage and real estate professionals.
In 2002 he hired the creator of the original FICO scoring system and the Nation's leading credit attorney to build the 760 Club and earned a very rare Credit Scoring Expert Certification.
In 2004 he was recruited to develop a national cash flow management program. He combined his skills in credit enhancement and debt elimination to develop a very unique 7 point system which allows people to achieve their financial goals far more quickly and own their homes and become completely debt free 3-5 times faster.
Over the past decade he has appeared on hundreds of financial radio talk shows, had several television interviews and has co-authored 3 books teaching consumers and small business owners how to take control of their personal finances with the money they already earn and with no sacrifice to lifestyle. His mission is to change the social economics for as many families as possible through educational programs and speaking engagements he empowers people to create a totally different financial future.
GET THE MOST OUT OF THIS INTERVIEW
New money comes from new habits. So make it a habit to capture this must-have information. Whether you are just starting out in real estate investing, or are working on your hundredth deal, the Fort Wayne Indiana Real Estate Investors Association can help you learn more, make more, and have more fun doing it.
The Fort Wayne REIA Meeting is hosted by some of the top investors and real estate business owners in the country. That guarantees you can hone and sharpen your deal analysis skills, examine common mistakes and pitfalls. And then network and learn from others in your own area and at your current level in real estate: beginner, 'been doing it awhile' or pro.
In your own area is the key because real estate is geographic. We are not hundreds of miles away like the guru salesmen trying to tell you (or sell you) what works in your city. We are actively investing in the same committees as you are so we know the markets.
We have REIA members all around Indiana, Illinois and Ohio willing to help and joint venture on real estate deals and funding real estate investments, including: Bluffton, Carmel, Hammond, Gary, Lafayette, Mishawaka, Elkhart, Richmond, Valparaiso, East Chicago, Columbia City, Fishers, South Bend, and Angola to name a few.
For advanced training on building a real estate portfolio faster without banks or credit see Matthew's LIVE Main Event™
Want to grow your portfolio? Here's the tool we use to manage income property professionally. Check it out and get our Landlord Survival Forms Free




Build Passive Cash Flow and Your Real Estate Portfolio When You Learn to Maximize Business Credit
GIVE YOURSELF AN
EDGE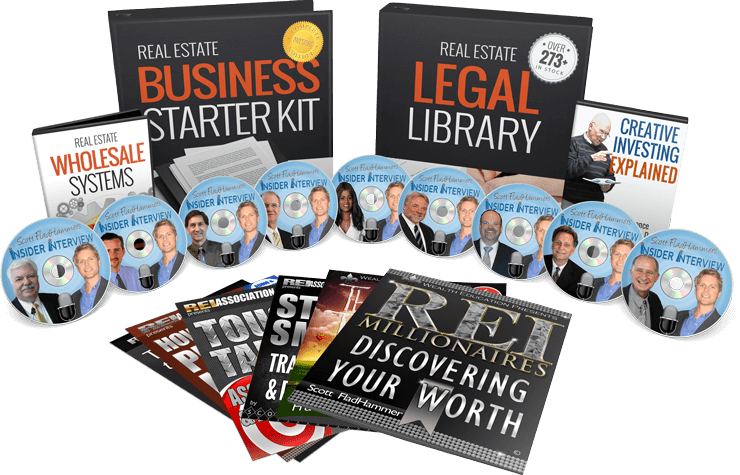 Get access to 50+ courses in the training academy when you invest in a REIA membership. Judge for yourself if the (ridiculously) low membership fee is worth everything
you see here