Promote and Represent Indiana REIA
—and your passion —
The first recipient of the Fort Wayne REIA Ambassador Award represents all that is great about passionate social networking and relationship building.
When Jutta Taylor walked into a room you either knew her, and liked her, or you soon would. And that vigor and passion reflected in her professional life.

She had a loyal group of friends and fans that supported her and wanted her to succeed because that is want she wanted for all of those she met. It all starts by reaching out to friends, family and strangers alike and sharing the place where lives are changed in fortunes are made: Fort Wayne REIA.
THE AMBASSADOR AWARD
Similar to the Rookie of the Year award, where we highlight our newest movers, shakers and money makers in the investor community, the Ambassador Award is in recognition of the individual who best promotes and grows the Fort Wayne REIA, we bestow the Ambassador Award (this year's winner).
This benefits the Fort Wayne REIA and our community by helping those interested in real estate investing.
Because there are people out there who don't know about this excellent source of education and inspiration. But with your help your friends, neighbors and colleagues can:

Learn about real estate investing
improve their lives and neighborhoods
find out there is a great place to network
enjoy the meetings, Member Academy and investor community
---
2023 AMBASSADOR AWARD WINNER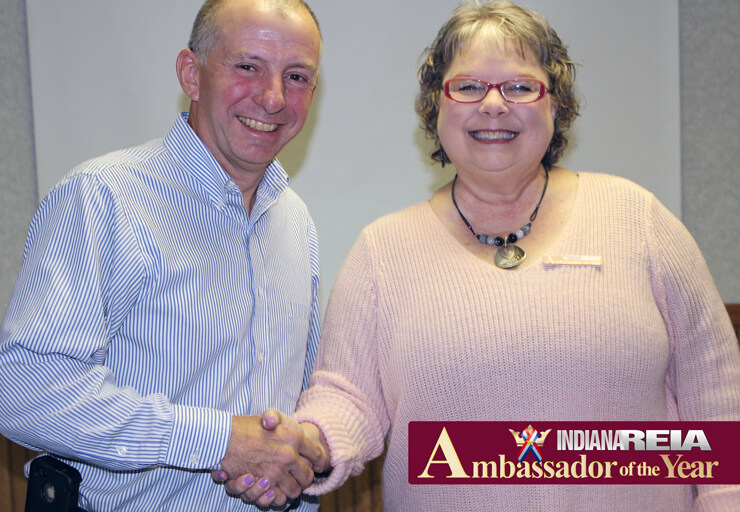 FORT WAYNE INDIANA REIA: A WORTHY CAUSE TO PROMOTE
In these times of uncertainty real estate coupled with a strong education has always provided incredible returns. That's why the Fort Wayne REIA and the country thank you for sharing and showing others how to succeed in real estate.
During my career I've had the privilege of associating with the best and brightest entrepreneurs and investors in America. They all have two things in common: they are active in their REIA and they encourage others to do the same.
There's never a shortage of ideas and inspiration when trade secrets are dispensed freely. And it's our willingness to give that has helped us gain so much.
– Scott FladHammer, Fort Wayne REIA president
WE'VE MADE IT EASY TO SPREAD THE WORD:
This way you can keep some Fort Wayne REIA in your car, your brief case, and with your other important paperwork. Then when you meet with someone you can give easily provide them with quality reference material. Start by downloading the following marketing material and then print them out.


The WANTED poster:
Download Here


If its more convenient for you, here is the WANTED flyer in a jpeg image format:


The WANTED poster image:
Download Here


Here is a handy 1/2 sheet explanation flyer of who the Fort Wayne REIA is:


Who Is Indiana REIA flyer:
Download Here


Here's a neat way to convey our theme of Getting Plugged In to your local REIA:


Get Plugged In flyer:
Download Here
If you have a product or service you think would benefit the REIA contact us about our affiliate program
Point people in the right direction when they decide to join. Here is the member plans to sign up online for a new REIA membership.

One other way to spread the good word is to write your name on the back of a ton of Fort Wayne REIA business cards and pass the cards out to people you meet: friends, family, co-workers, other real estate professionals, those in church and other groups, ….
Then when the people attend their first meeting (which is always free!) we track how they found out about the REI club and we tally up the count at the end of the year.
Whoever has the most referrals wins the Ambassador Award and prizes and club recognition. You can get our business cards free at the meetings, just ask a board member for some.
And you can write your name on the Wanted poster as well. Then you're closer to getting the Fort Wayne REIA Ambassador Award. And don't worry if the people you refer forget or lose your card or poster- we'll always ask them 'who referred you to the Fort Wayne REIA?' and then log your name.
Then whoever has been the best Ambassador of the group ( by having the most people attend or join) is awarded with the 'Ambassador Award' at the REIA meeting along with some great prizes.
Now pass them out, hang them up, tape them to people, …
CAN YOU HELP OUR ASSOCIATION AND CAUSE
Do you have a product, service or idea that could help us promote Fort Wayne REIA™ and financial freedom through our Wealth Education™. We would love to partner with you to spread the word out about Fort Wayne REIA™.
Contact us for

marketing and media

Joint Venture requests

or keynote speaking at our REIA meeting here
REIA EVENTS + SUPPORT GROUPS
As an investor, you want to invest your time wisely for the biggest return on investment. So be sure to mark your calendar and attend our other REIA community events to learn, have fun, and build profitable relationships and support groups:
Want to grow your portfolio? Here's the tool we use to manage income property professionally. Check it out and get our
Landlord Survival Forms Free